EMPLOYMENT OPPORTUNITIES
---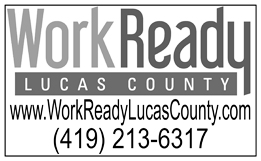 ---
TOLEDO LEGAL AID SOCIETY
Assistant Public Defender and TLAS Fellowship Program positions available in Lucas County, Ohio. Successful candidates must be licensed with the Ohio Supreme Court. Graduates from an accredited college of law who are awaiting Ohio bar results will be considered for the fellowship program. Please see http://www.nlada.org/node/34681 for more detailed descriptions. Email cover letter and resume by November 6, 2020 to: ToledoLegalAidSociety@Yahoo.com
---
Employment Opportunities
The Ohio Turnpike and Infrastructure Commission is seeking
candidates for a Roadway Maintenance Worker and a Mechanic
at the Elmore Maintenance Building located in Elmore, Ohio.
High school diploma or equivalent and a valid Class "A" CDL are required
for both positions. Please visit www.ohioturnpike.org to access the full
job descriptions and application instructions.
Equal employment opportunity shall be afforded to all qualified persons without regard to age, race, color, religion, religious creed, gender, military status, ancestry, disability, handicap, sexual orientation, genetic information or national origin.

EMPLOYMENT OPPORTUNITIES
Lucas Metropolitan Housing (LMH), located in Toledo, OH is seeking experienced applicants for the following position: Safety & Security Mobile Patrol Officer. For complete details, visit https://www.lucasmha.org and click on Careers. Deadline: 11/29/20. This is a Section 3 covered position. HUD recipients are encouraged to apply and are to indicate on the application if you are a LMHA Public Housing client or Housing Choice Voucher Program participant. Persons with disabilities are encouraged to apply. NO PHONE CALLS. Equal employment opportunity shall be afforded to all qualified persons without regard to age, race, color, religion, religious creed, gender, military status, ancestry, disability, handicap, sexual orientation, genetic information or national origin.
<![if !vml]>
<![endif]>
---
NOTICE OF JOB VACANCY
• Recovery Care Manager RN or LSW/LISW
Registered Nurse (RN), or Licensed Social Worker (LSW or LISW) licensed to practice in the State of Ohio or a Bachelor's Degree in Counseling, Psychology, or related field, and a minimum of three (3) Year's prior experience in Home and Community Based Services or case management and mental health. Provides Recovery Services Management for the Medicaid Specialized Recovery Services Program (SRSP).Understanding of home and community based service delivery system and community resources. Ability to travel in a multi-county service area and access private homes and facilities, which may not be readily accessible. Knowledge of issues affecting people with severe and persistent mental illness and community-based intervention/resources for those individuals
Reliable transportation, insurance, valid driver's license and the ability to satisfactorily undergo a Motor Vehicle Record check (MVR) on at least an annual basis, successfully passing criminal background check, and drug/alcohol screening. Excellent Benefits.
EEO/AAP, Bilingual and minority applicants encouraged to apply.
Submit resumes to: Samuel H. Hancock Ed.D. Vice-President of Human Resources Area Office on Aging of NW Ohio, Inc. 2155 Arlington Avenue Toledo, Ohio 43609
Or jobs@areaofficeonaging.com
This description is intended to indicate the kind of tasks and level of work difficulty required of the position. The title of this job shall not be construed as declaring the specific duties and responsibilities of the position. This position description and/or job vacancy notice is not intended to limit or in any way modify the rights of any supervisor to assign, direct, and control the work of employees under supervision. The use of this particular expression or illustration describing duties shall not be held to exclude other duties not mentioned.
---
DIVERSITY AND INCLUSION PROGRAMMING SPECIALIST
Metroparks has an opening for a full time Diversity and Inclusion Programming Specialist position at Wildwood Preserve Metropark to carry out programs and special events that focus on the inclusion of diverse populations and to develop and coordinate those with community partnerships. Bachelor's degree preferred or equivalent work experience. Moderate level of experience in program development, production and evaluation and producing special events to diverse populations. Experience in developing and coordinating partnerships with community organizations. Must be 18 years of age and hold a valid driver's license. $18.45/hr. Full time with benefits. Please visit www.metroparkstoledo.com/careers for complete list of position requirements and duties; must submit online application and resume. EOE
---
Attorney
Lucas County Children Services is seeking candidates for a Staff Attorney. Education, experience and deadline requirements can be viewed at www.lucaskids.net
EOE
Valuing Diversity. No phone calls please.
---
Multimedia Producer/Social Media Coordinator
WGTE Public Media seeks a highly creative and energetic professional to
plan and create, independently and in collaboration with other team
members, highly engaging video, audio, etc. content for online and
broadcast distribution. Team member may take part in content as necessary
and will also be responsible for executing the marketing plan and for
developing communication/marketing assets for digital, print, television,
and radio.

2 to 3 years of proficiency in: creating and managing content for various
social/digital platforms; editing short-form video using Final Cut, Adobe
Creative Suite, etc., and a bachelor's degree in communications/marketing,
journalism, media, or related discipline is required. Send your letter and
résumé to: Human Resources, P.O. Box 30, Toledo, OH, 43614 or at
employment@wgte.org. EOE/ADA

---
Director of Human Resources
Lourdes University, located in Sylvania, Ohio, is seeking applications for Director of Human Resources. Review the job description and application process at:
www.lourdes.edu/jobs
Lourdes University is committed to a having a workforce that reflects the diversity of our global population. EOE
---

NOTICES
LEGAL NOTICE
REQUEST FOR QUALIFICATIONS FOR SERVICES
RELATING TO THE DESIGN OF DOCK IMPROVEMENTS
LOCATED AT FACILITY 1
The Toledo-Lucas County Port Authority ("TLCPA") is requesting qualification statements from professional full-service consulting engineer firms to provide planning, engineering, and design services in connection with the subject project. The project involves designing the necessary repairs and modifications to all dock related components, existing rail system, site utilities, and storm drainage system. It is anticipated that this project will restore, improve, and upgrade the existing Facility 1 dock. The project area includes the 4,200 LF of existing dock within Facility 1 along the southeastern bank of the Maumee River, the submerged water areas adjacent to the dock, and a stretch of St. Lawrence Drive within Facility 1 (Figure 1). The project will be designed for phased construction to maintain continuous operation of the port during the restoration.
MARAD and ODOT MAP grant funds will be used to fund planning, engineering, and design work for the dock improvement project. The total project budget for the project described below is approximately $14,000,000.00. Of this total, $355,000.00 has been allocated for design and engineering services as described below. The targeted design completion date is April 30, 2021.
The required format for the proposal to be submitted to the Toledo-Lucas County Port Authority is described in detail in the full copy of the Request for Qualifications, and is available by either (1) emailing Tina Perkins at Tperkins@Toledoport.org or (2) visiting the Port Authority's website at https://www.toledoport.org/projects/public-notices/. Proposals are due no later than Friday, November 13, 2020, at 12:00 p.m. (local time).
---
NOTICE TO BIDDERS
SEALED PROPOSALS for bidding on Metroparks Toledo – Riverside Trail East,
1001 Front St., Toledo, Ohio 43608 will be received; opened; and read aloud at the Metropolitan Park District of the Toledo Area, Fallen Timbers Field Office, 6101 Fallen Timbers Lane, Maumee, Ohio 43537 Friday, November 20, 2020 at 3:00 p.m. local time.
THE SCOPE OF WORK consists of construction of a 12' wide x 0.68 mile asphalt bike path connection from Main Street to Marina Drive including a 110' x 20' pedestrian bridge over Main Street. General construction includes erosion control; storm drainage; asphalt and concrete pavement; segmental and cast-in-place concrete retaining walls; concrete bridge abutments; steel bridge with concrete deck; railings; landscape plantings, trellises & planters. Bidders may obtain copies of plans, specifications, contract documents and plan-holder's list through Newfax Corporation, 333 West Woodruff, Toledo, Ohio 43604 between 8:30 a.m. and 4:30 p.m., Monday through Friday (check made payable to Newfax Corporation) or via the Newfax Digital Plan Room at www.newfaxcorp.com. Newfax can be contacted at 419-241-5157 or 800-877-5157. A non-refundable fee of $40 is required for each set of full-size documents obtained. For additional
information, please contact Jon Zvanovec @ 419-360-9184, jon.zvanovec@metroparkstoledo.com.
COVID-19 UPDATE: In the event the office is not staffed to receive early, hand-delivered bids, bidders may drop off sealed bids to the aforementioned office address through the front door slot. Staff will be present at the Fallen Timbers Field Office for one hour prior to bid opening. If social distancing becomes problematic due to bid-opening turnout, the opening will be held outside or in an adjacent larger facility. Masks are required.
EACH BIDDER MUST FURNISH either (1) a bond for the full amount of the bid or (2) a certified check, cashier's check or irrevocable letter of credit in an amount equal to ten percent (10%) of the bid with its bid. The successful bidder must furnish a 100 percent (100%) Performance Bond and a 100 percent (100%) Labor and Materials Bond.
The bidder must be an Ohio Department of Transportation (ODOT) pre-qualified contractor. Pre-qualification status must be in force at the time of bid, at the time of award, and through the life of the construction contract.
The Disadvantaged Business Enterprise (DBE) goal for this project is minimum seven percent (7%).
No bidder may withdraw its bid within thirty (30) days after the actual date of the opening thereof.
THE BOARD OF PARK COMMISSIONERS OF THE METROPOLITAN PARK DISTRICT OF THE TOLEDO AREA reserves the right to reject any or all bids, and to waive any informality in bidding.
By order of the Board of Park Commissioners
METROPOLITAN PARK DISTRICT OF THE TOLEDO AREA
David D. Zenk, Director
---
REAL ESTATE
Room for rent.
Gas, electric and utilities included. Background check required.
Call 419-561-9467.
---
ABUNDANT LIFE OF PERRYSBURG
ACCEPTING APPLICATIONS
Abundant Life of Perrysburg is accepting applications for its subsidized apartment communities. Abundant Life #1 offers independent living for senior citizens 62 years of age or older and individuals 55 or older with a physical impairment. Abundant Life #2 is a supportive living complex for people 62 and older. To apply individuals must meet the age and annual income requirement of no more than $25,200.00 for one person or $28,800.00 for two people.
We are located in the Three Meadows subdivision near the Manor of Perrysburg. Our garden style apartments offer an open floor plan, one bedroom, secured buildings with private patios and individually controlled heat and air conditioning.
We have a bus that transports all residents to area grocery stores and monthly outings. We offer exercise, worship services and a variety of opportunities for our active and not so active seniors. Please call (419)874-4371 to find out more about our fabulous communities and our availability for apartments. You may also visit us on the web at abundantlifeperrysburg.org.
---
Northgate Apartments
610 Stickney Avenue
Toledo, Ohio43604
*Now accepting applications for One and Two bedroom Apartment Homes*
Senior Community for persons 55 years and older. Rent is based on income. Our Activity and Service Coordinators are on site. Heat included. Chauffeured transportation to nearby shopping and banks available.
419-729-7118
Equal Housing Opportunity/Equal Opportunity Employer
---