Junction Coalition Holds Christmas Party for Members and Family
On Friday, December 15, the Junction Coalition held its first Christmas party for its board members, staff and families at the Frederick Douglass Community Association. About 50 Junction volunteers and family member attended the event.
The Junction Coalition was recently honored for community work at Ohio Environmental Council State Dinner with former Governor Ted Strickland. He shared how proud he is of Toledo's very capable Honorable Mayor Paula Hicks-Hudson, Esq., and the hard work that she is doing for the city!
The Junction will partner with local residents as well as institutions generally to assist the surrounding disenfranchised community and stand against injustice. Aware of the dehumanizing aspects of systemic poverty, the Junction Coalition plans to work for the Junction neighborhood as a guiding force for systemic change to alleviate poverty. Building on the four pillars of social justice, economic justice, environmental justice, and peace education, the Coalition plans to work toward: planning, organizing, directing, and coordinating economic revitalization activities, developing and redeveloping within the boundaries of the Junction community and improving the quality of life for all neighborhood and community stakeholders, especially low-income residents.

FDCA Volunteer Security and Maintenance Bernard Griffin and Alicia Smith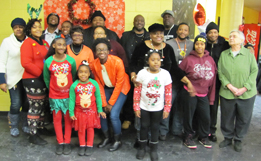 Alexis Smith, Alicia Smith, Megan Powell

Anique Davis and Reche, Avontae, Diamond, Anastie ans Ry'Lee

Malaya and Faith Ebert and Grandmother Deborah Robinson