Toledo Firefighters Memorial Highway Announced
Sojourner's Truth Staff
State Rep. Michael Ashford and Toledo Fire Fighters IAFF Local 92 President Jeffrey Koenigseker unveiled the signage for the new "Toledo Firefighters J. Dickman and S. Machcinski Memorial Highway," a stretch of I-75 between Nebraska Avenue and Monroe Street in Toledo honoring two local firefighters who lost their lives in the line of duty.
"For the last year and a half, I have worked with Jess Koenigseker," said Ashford at the onset of the announcement. "I praise his dedication and commitment. Today we are honoring two fallen heroes and honoring their commitment and sacrifice."
The event, held at the Toledo Firefighters IAFF Local 92 Union Hall, was attended by dozens of firefighters, local elected officials and dignitaries and members of the fallen firefighters' families, who were given commemorative plaques of the signage that will adorn the highway.


State Rep. Michael Ashford, Mayor Wade Kapszukiewicz. Firefighters Union President Jeffrey Koenigseker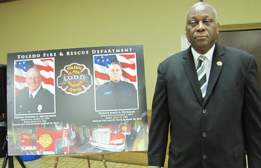 Michael Ashford with
commemorative plaque
"The wounds this community suffers are not healed and will never heal," said Toledo Mayor Wade Kapszukiewicz. "But the least we can do is recognize Stephen Machcinski and Jim Dickman."
Machcinski and Dickman were killed during a blaze on January 26, 2014 at 528 Magnolia Street in north Toledo. The building, owned by Ray Abou-Arab, was judged to be arson and Abou-Arab later was sentenced to a 20-year maximum prison term after a plea bargain.
The stretch of I-75 to be named for the fallen firefighters, is a result of the passage of Ohio Senate Bill 134 in December which renames portions of 28 Ohio highways and a bridge. The bill also creates two dozen new specialty license plates and names a Kelleys Island picnic area.
The bill was sponsored by state Sen. Randy Gardner of Bowling Green and includes the local provision honoring the two firefighters as a result of efforts by Ashford.