Fros, Fashions and Finds: Changing the Face of Black Beauty
By Megan Davis
The Truth Contributor
By now, we have seen it, the rise of the black beauty industry, ignited by the natural hair movement. A completely different genre of beauty and business in the black community that celebrates melanin, hair that defies gravity, and a culture that is deeper than fried chicken, watermelon and any other stereotypical idea of who black people are. Dominated by black women who, from the heart of their kitchens, worked diligently to create a new recipe for beauty and success, the natural hair industry has created layers of businesses that are for us, by us, unapologetically.
It started with blogs often powered by google, with cute usernames like "naturalgirl" or "curlydiva." These blogs followed individual journeys of the stages of transitioning to natural hair and beyond. What came next were the meet-ups, which are events that naturals could come together in their communities to learn about natural hair care and learn new techniques and styles. In Toledo, these have been held at libraries and other venues for 10 years. As more women began to embrace their natural hair, they also endeavored to be more health conscious in their choice of foods and hair and skin care products. Here is where people like the creators of Carol's Daughter, Miss Jessie's and Shea Moisture began to grow.
Companies like these all started in the homes of mixmasters, blending organic ingredients together to meet the growing needs of moisture, maintenance and manageability for the natural hair community. These companies have evolved from selling products out of their homes and car trunks to becoming instant successes with e-commerce websites where others outside their own communities could buy their products as well. Enter the Home Shopping Network which gave Lisa Price, Brooklyn native and creator of Carol's Daughter, first place in natural hair care when her products became the standard for black women everywhere who wanted something made by someone that looked like us. With some special funding and brand ambassadors like Jada Pinkett-Smith, her products became the upscale line for naturals. It was as if natural hair care went "Hollywood" and natural black hair had finally arrived.
Then from Long Island, New York, there came a man named Dennis Richelieu, founder of Nubian Heritage skin care and Shea Moisture hair care products. He, along with his grandmother and college friend, took homemade recipes and preparations to the next level with a brand rooted in his African heritage and became a household name in black hair care practically overnight. His products are even more widely available than others today, thanks to an infusion of investments from unlikely sources that has or his company in jeopardy. But we will come back to this.

Lisa Price, Carol's Daughter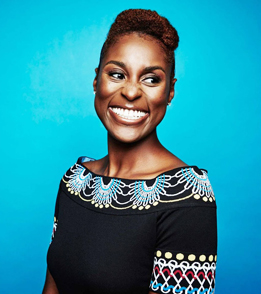 Issa Rae

Khloe Kardashian wearing Bantu Knots

Dennis Richelieu
Maybe it's a New York thing, but there is also Miss Jessie's, a company started by sisters Miko and Titi Branch. Their success was made from recipes in their kitchen also, trying out their concoctions on clients in their salon. Their products were all the rage until the market exploded and more mom and pop product companies rose to the occasion to establish their own companies to serve their communities. Miss Jessie's was one of the highest-priced natural hair companies of this kind.
When these companies rose to fame so quickly, natural hair expos and conventions, would become popular events that featured several vendors, small business owners and a combination of entertainment and education. It's here where small business development took on a life of its own. Expos like the Ohio Natural Hair, Health & Beauty Expo, held in Toledo annual, gave business owners an affordable opportunity to display their goods and services to the community and to connect consumers that a small business may otherwise not have been able to reach. The idea of these types of events has been to advertise your business to a large group of people in one day, giving each more than one way to connect with a business: meeting the owner, seeing and touching the products and learning how their good or service can work for the consumer; something that ads, especially social media shares aren't always able to accomplish.
This is also how word of mouth, referrals and networking have made their comeback. Businesses have new platforms at local events to be showcased and the impact it has had on the Industry is immense. Coupled with changing laws in some states for natural hair stylists who are being emancipated from unnecessary licensing requirements, the new, but old age of each one reach one has powered the new black beauty industry.
Gaining momentum, natural hair styles have been trending once celebrities like Issa Rae, Viola Davis and Tracee Ellis Ross began embracing their roots publicly. Insert cultural appropriation here. A movement that was established for melanated people with Afro hair, was growing around the world. That movement became the industry that remains viable even though the threat of a certain privilege is looming above it. Because later came the cosmetology industry who developed "professional" products that had an even higher price tag, discouraging consumers from buying homemade, stating the products weren't balanced enough for black hair. Insert the side eye emoji here, and hold it.
Picture it, New York fashion week and a barrage of pale-skinned models are walking the runway donning dreadlocks and Bantu Knots, images that women of color were outraged by not only because they weren't represented, but also because it was as if someone snatched their child and paraded them around as if they were the "White Savior" rescuing them from themselves. This debut of African American hairstyles yielded a series of Youtube videos and short tutorials of more non-melanated women teaching their viewers how to achieve these styles. Marc Jacobs, a fashion designer who has been accused of cultural appropriation more than once, was under siege in a social media firestorm over his choice in hairstyles for his runway looks. His response was "funny how you don't criticize women of color for straightening their hair." Touche, Mr. Jacobs.
Cultural appropriation too, has taken on a new life. Natural women were just embracing their tight coils, kinks and waves when all of a sudden, old hair care lines that previously catered to the relaxed consumer, were now developing their own curly hair lines for women of color. The problem with this is the size of these companies like Dark and Lovely, Pantene, Cream of Natural and others; their ability to get on retail shelves has been and still is a lot easier than smaller companies to do. They may be behind in knowing black beauty trends, but their dollars and influence in the beauty market spread faster and smoother. Even with Miss Jessie's, Carol's Daughter and Shea Moisture, you most often had to order online, during a time where people of color were very apprehensive about purchasing anything online.
For the few natural hair product companies that saw massive success, it seemed that the buck stopped with those main three. While there are now hundreds of other smaller companies, that are chugging their way down the rail to success, the aforementioned companies pushed their product out just in the nick of time. In order to stay relevant and successful, Carol's Daughter and Shea Moisture have been under much scrutiny for their recent financial partnerships with companies like L'Oreal, Bain Capital (which was noted to be linked to Mitt Romney) and Unilever, companies that are funded by "White Dollars" that provided an infusion of cash to these businesses in order to expand and be placed in more retail stores around the world. These decisions have left the conscious black shopper in a lurch over supporting companies that "sold out" to "the man." People noticed, as soon as these deals were made, that their marketing changed completely and, for those who purchased products regularly, also noticed that there was a change in the formula.
In the spring of 2017, an online ad by Shea Moisture showed several white women with wavy or curly hair, complaining about manageability and maintenance until they began using the products. As quickly as this became a viral video, black women were boycotting Shea Moisture on-the-spot, and began searching for other black-owned companies to support. Of course, there were questions raised when Dove did a similar thing that didn't receive the same response. Perhaps because it was expected from a company like that to create an ad that disgraced the African-American esthetic, but when it was black, it was personal. And we still watch BET...To date, Shea Moisture barely made it past that debacle which has claimed thousands, maybe millions of consumer dollars, and now they have been acquired by a UK company, Unilever. Quite possibly, they had to sell in order to stay on the market at all after that lest they fold under the pressure of letting women of color down.
With larger corporations trying to get in on the success of what the natural hair movement has created, consumers are constantly doing research and also standing on opposing sides at times. Because the corporations have implanted their dollars into black companies, they have watered down their products and lowered the prices to sell more, but never as cheap as their own products. What used to sound like exotic, one of a kind formulas in Carol's Daughter products such as Monoi oil, has now been emulated across retail shelves in Sally's, Walmart and all the beauty supply stores across the country at a fraction of the price of "our" products. Consumers are constantly faced with trying to finding more for less, and the major corporations who have pushed out their own "natural" lines, make it hard for people to choose.
If these things aren't enough to see how the face of Black Beauty is being changed, then perhaps this last example will confirm how something naturally ours is being kidnapped by those who want greenbacks off "our" backs. Locs, which is a hairstyle that requires a commitment from an individual to grow down to their waist over a period of seven-10 years, can be purchased 20 for $5.99 at any local non-chain beauty supplier. The loc jewelry that black women were making by hand and selling online on sites such as Etsy, which celebrates handmade artisans, can now be purchased five or so for $0.99. Shea butter that we can source fair trade from vendors who have partnerships with the people of Ghana is now being processed and stretched out and sold in small containers for $3.00 or more. And if your Afro doesn't have defined curls, you can buy a bag of them for $4.99 and attach it to your own hair for free if you watch a how-to video online.
The curls that we grow naturally, in all their glory, are being worn by white models and actresses of color, by way of wigs and weaves, both items that discourage women from wearing their own hair. Let's also throw in the fact that what once was a crown of glory, the Afro, is now a banner of shame since product companies have developed several items that stretch, elongate and smooth naturally curly hair to make it more presentable and manageable. The natural hair movement birthed an industry that was made for us by us, growing exponentially between 2007-2017 and is now being appropriated and monopolized by white and light brown people, the lowest bidders, a repeat of the Madam C.J. Walker era. Black Beauty has changed faces again, but if we have changed the industry twice before, we can do it again. Stay tuned for the next Fros, Fashions and Finds where we discover how.