Toledo Library Announces 2nd Annual Glass City Black Comix Arts Fest
The Glass City Black Comix Arts Fest (#GCBC) celebrates and supports black comic book creators from around the world in their effort to tell compelling, uplifting and fantastic stories. The Festival aims to educate comic book fans about the amazing work created by black artists and to spread the word that all audiences deserve meaningful representation in the comic arts and popular culture.

In addition to the programs listed below, invited vendors will be on hand all day selling their books, graphic novels, and more in the GCBC Marketplace located in Main Library's Huntington Room.
Glass City Black Comix Arts Fest
Saturday, Feb. 10 | 11 a.m.
Main Library, 325 Michigan St.
FREE and open to the public!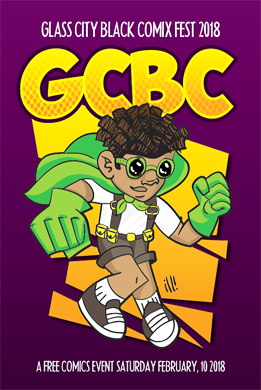 PROGRAM SCHEDULE 11:00 a.m. - 3 p.m.

Welcome to the 2018 Glass City Black Comix Fest!
with Martini Rox and Imani Lateef
11:00 a.m.
Location: Huntington Room

Panel discussion and Q & A with Michelene Hess, Ashley Woods and Jamar Nicholas. **
Moderated by Martini Rox
11:30 a.m. - 12:15 p.m.
Location: Huntington Room

UCreate Comics Workshop with Victor Dandridge
12:30 p.m. - 1:30 p.m.
Location: The Metro

White Scripts Black Supermen Q & A with Sean Mack, Imani Lateef and Michael Watson. **
Moderated by Darryl McCullough
1:00 p.m. - 2:15 p.m.
Location: Huntington Room

Presentation: Discovering Black Comic Books and Graphic Novels for Young Readers **
Presented by Terreece Clarke and Books 4 Buddies
2:30 p.m. - 3:00 p.m.
Location: Huntington Room

ACTIVITIES AND DROP-IN PROGRAMS 11 a.m. - 3 p.m.

Screening of documentary film White Scripts Black Supermen
Jonathan Gayles, Ph.D.
Through interviews with prominent artists, scholars and cultural critics along with images from the comic books themselves, this film examines the degree to which early Black superheroes generally adhered to common stereotypes about Black men. From the humorous, to the offensive, early Black superheroes are critically considered.
Location: McMaster Center

Comic Book Workshops and Activities
with Various Comic Book Creators *
1:30 p.m. - 3 p.m.
Location: Creativity Lab

*Kid Friendly, interactive workshop
**Great for Parents and Educators

(The program schedule is subject to change without notice. All events listed chronologically.)

Giveaways and prizes have been generously provided by Penguin Random House.
Meet Our Heroes!
Michelene Hess – comic book illustrator, publisher: Born and raised in New York City, Micheline started her professional comic book career in the early 90s with Milestone Comics as a colorist. She has several creator-owned works such as the award-winning fantasy-adventure comic, book series Malice in Ovenland, The Anansi Kids and the All Saints' Day Adventure, and the children's book The Island Cats of Cunga Ree.

Ashley Woods – comic book illustrator, publisher: A Chicago native, Ashley A. Woods got her start self- publishing her action-fantasy comic series Millennia Wars while attending the International Academy of Design and Technology. She began working for actress, Amandla Stenberg and Stranger Comics on NIOBE: She Is Life which went on to sell tens of thousands of copies and lead the movement of representation in comics, as well as with writer, Delilah S. Dawson on Ladycastle for BOOM! Studios. Her most recent work includes Dark Horse Comics' Tomb Raider.

Jamar Nicholas – comic book illustrator, publisher, educator: An award-winning, Philadelphia-based artist and educator, Jamar has taught and lectured on the topic of comics creation at numerous institutions, dedicating his career to empowering young people to create their own cartoons and comics, and helping them realize the power of visual narrative. His works include adapting and illustrating Geoffrey Canada's Fist Stick Knife Gun; the serialized full-color comic strip, Detective Boogaloo: Hip-Hop Cop; and Leon: Protector of the Playground.

Andre Batts – comic book illustrator, publisher: Detroit-based illustrator, writer and founder of Urban Style Comics.

Terreece M. Clark – children's book author, journalist, marketing consultant: Terreece has written for a variety of websites, magazines and newspapers including MyBrownBaby.com, Columbus Parent Magazine, and is a YA and children's book reviewer for Common Sense Media. Her first children's book Olivia's Potty Adventures has spent weeks as a #1 Amazon New Release comes out February 13, 2018.

Victor Dandridge – comic book illustrator, publisher: Writer of The Samaritan, The Trouble with Love, the Origins Unknown series, and the anthology novel 8 Mins, Victor is a leading, new voice for innovation and production within the self-publishing market.

Sean Mack – publisher, Short Fuse Media Group: Born and raised in Detroit, Sean is the founder and publisher of Short Fuse Media Group, a full-fledged creator-owned comic book publishing company releasing over thirty titles from various indie creators across the United States.

Darryl E. McCullough – author, filmmaker, podcast host: A self-published author and award-winning independent filmmaker, Darryl is the founder of the National Podcast Power Conference, and the co-creator and host of the Full Circle podcast.

Michael Watson – comic book illustrator, publisher: A Cleveland native and graduate of Cleveland School of the Arts. He received his bachelor's degree in Fine Arts with a focus in illustration from the Columbus College of Art and Design. Michael has been creating comics for over 10 years and established Freestyle Komics (FSK) in 1999 as his own independent publisher.