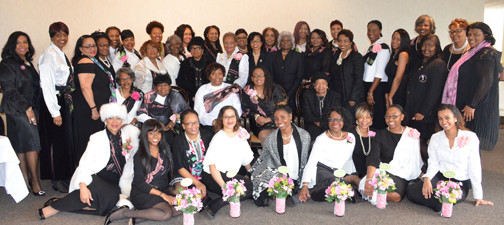 AKA, Inc Zeta Alpha Omega Chapter Celebrates Founders' Day
Sojourner's Truth Staff
On Saturday, February 24, 2018, members of the Zeta Alpha Omega Chapter of the Alpha Kappa Alpha Sorority, Inc celebrated Founders' Day at the Brandywine Country Club resplendent in black and white and reminiscing about the journey the sorority has taken over the past 110 years.
Alpha Kappa Alpha, Inc, the oldest Grek-lettered organization established by African-American college-educated women, was founded by 16visionary women on the campus of Howard University in Washington, D.C. on January 15, 1908.
Currently Alpha Kappa Alpha Sorority is comprised of nearly 300,000 members in 1,012 graduate and undergraduate chapters in the United States, the U.S. Virgin Islands, Bahamas, Bermuda, Canada, Japan, Germany, South Korea, the Middle East and on the continent of Africa.
The area's first chapter, Alpha Lambda, was chartered on December 10, 1928 at the University of Toledo.
This year's program began with a musical prelude, a narration by Julia Holt, co-chairman of the Founders' Day Committee and a welcome by chapter president, Morgannia Dawson. A musical presentation followed by Balm of Gilead and greetings were offered by the undergraduate chaptr representatives, Sierra Odoms from the UT chapter, and Diamond Spratling, from the Bowling Green State University chapter.
Member Margaret Huntley offered the invocation.
After lunch was served, Holt once again narrated the timeline and Vice President Nicole Williams acknowledged the community gift before remarks by Elinor Allen and closing remarks by Morgannia Dawson.
The Zeta Alpha Omega Chapter officers are: Dawson, president; Williams, vice president; Pamela Green Jones, secretary; Katrina Barry, assistant secretary; Treva Jeffries, corresponding secretary; Paula Martin, financial secretary; Denise Black-Poon, Ivy Leaf reporter and Cheryl Wallace and Desiree McGee, graduate advisors for UT and BGSU respectively.
Alpha Kappa Alpha Sorority's membership includes distinguished women who boast excellent academic records, proven leadership skills and are involved in the global community through advocacy and service.