Ella P. Stewart Students Bring Black History to Life
Sojourner's Truth Staff
Twenty third grade students brought black history to life on Wednesday, February 21 as they entertained and educated visitors on the lives and accomplishments of 20 women who have figured prominently in African-American history – national and local.
Third grade teacher Jackie Morris, now in her 15th year of organizing the Living Wax Museum that pays tribute to historic African-American women, tasks her students with researching the lives of women. Once the essays are complete, they are distilled into short time-bites that the students recite when approached by visitors to the Living Wax Museum.


Sojourner Truth
This year the third graders presented glimpses into the stories of Alice Parker, inventor of a gas heating furnace; Stephanie Tubbs Jones, former U. S. Representative from Cleveland, OH; Moms Mabley, comedian; Gabrielle Douglas, Olympic gymnast; Kim Fields, actor; Shirley Chisholm, former U.S. Representative from Texas and a candidate for president; Mary McLeod Bethune, educator; Fannie Lou Hamer, activist; Lyda Newman, inventor; Ruby Bridges, a New Orleans, LA student; Bessie Coleman, aviator; Condoleeza Rice, former Secretary of State; Jocelyn Elders, former U.S. Surgeon General; Rosa Parks, civil right icon; Ella P. Stewart, local activist; Mae Jemison, astronaut; Wilma Rudolph, Olympic track star; Phillis Wheatley, 18th century poet, Paula Hicks-Hudson, Toledo's first female black mayor and, our personal favorite, Sojourner Truth, abolitionist.
Fannie Lou Hamer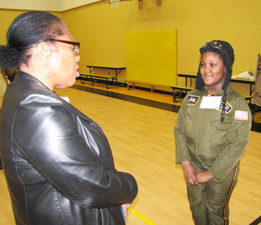 Paula Hicks-Hudson and Paula Hicks-Hudson

Mary McLeod Bethune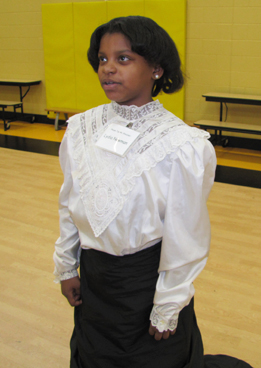 Lyda Newman.

Mae Jemison

Stephanie Tubbs Jones

Actress Kim Fields talks to eager listeners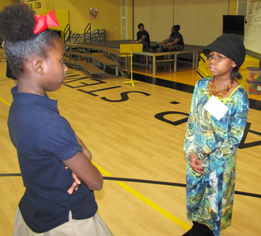 Moms Mabley tells her story