Delta Sigma Theta Sorority Holds Annual Senior Recognition Program
Sojourner's Truth Staff
The members of Delta Sigma Theta Sorority Inc, Toledo Alumnae Chapter, held its 32nd annual Senior Recognition Program on Thursday, May 3 at Bowsher High School and honored 74 graduating high school seniors from across the area.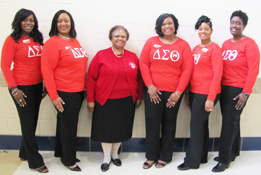 NaTasha Baker, Shannon Tisdale,
Angela Siner, Tiffany Triplett, Tia Daniels, Kaylene Miller
The theme of this year's program was "Pursuing Your Destiny."
After dinner was served, the program opened with a welcome from Angela Siner, president of the local chapter. Recognition Committee member NaTasha Baker related the history of the national sorority and Shannon Tisdale, committee member, spoke of the history of the Toledo Alumnae Chapter.
After a question and answer session, Deborah Rayford addressed the students, their parents and chapter members.
This year's Recognition Committee members are Tiffany Bailey, Tia Daniels, Kaylene Miller, NaTasha Baker and Shannon Tisdale.
The seniors honored for their academic achievements are: Bowsher students – Deavion Archie, Tykienna Williams Barnes, Tavia Brooks, Telayah Hughes, Alayisha McCoy, Alesandria Parkar, Marnique Swift, Brea Webb; Notre Dame Academy students – Victoria Douglas, Marissa Dzotsi, Rylee Harper, Ahniya Jones, Evangeline Obeng, Jasmine Frelin; Rogers students – Myia McLeod, Janae' Scott, Lauren Smith, Kierra Williams, Veshante Wynn; Start Students – Ayiana Byrd, Tatiyana Haythorne; Sylvania Southview student – Jada Douglas; Toledo Early College students – Alanna Copeland, VyJet' Derden, Keyara Edwards, Caprice Frazier, Marcelia Knowles; Toledo School for the Arts students – Leah Brock, Courtney Draper, Terri Draper, Jada Harris, India Hart, Myan Hudson, Cerenity Reaves, Danielle Thomas; Toledo Technology Academy students – Kierra Grant, Sheraia Smith