Northwest Ohio Scholarship Fund Presents Raise the Cap
The Northwest Ohio Scholarship Fund (NOSF) will be hosting its sixth annual Raise The Cap event on Thursday, June 7 at Fifth Third Field. Thanks to this year's Grand Slam Sponsors Morgan Stanley and LaValley, LaValley, Todak & Schaefer guests can plan on a fun evening with Toledo's favorite Mud Hens as they take on the Buffalo Bisons. The event will be held in The Roost, on the 3rd floor of the stadium that overlooks the field. Tickets are $55 and include dinner and a reserved seat. To make a reservation click on https://tinyurl.com/RTC06072018, call (419) 720-7048 or visit www.nosf.org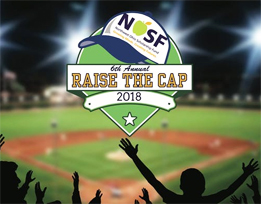 Proceeds for this annual event help children in the Northwest Ohio community receive an education that best meets their needs which includes private education or homeschooling. Raise the Cap helps make private education affordable for parents in need by raising funds for NOSF. NOSF provides scholarships for students in 19 counties across Northwest Ohio including Allen, Crawford, Defiance, Erie, Fulton, Hancock, Henry, Huron, Lucas, Ottawa, Paulding, Putnam, Richland, Sandusky, Seneca, Van Wert, Williams, Wood and Wyandot counties.
Longtime sponsor and Event Chair Jan Tidd said of Raise the Cap, "Arrow Print and Copy has been a proud supporter for many years of this fundraiser. I feel that the scholarships they provide help our youth excel in school. Education is the key to our children's future and Northwest Ohio Scholarship Fund provides a fun-filled evening of dinner and a ball game to help raise funds to further their cause. "
NOSF has assisted parents since 1999 in providing private education or homeschooling for their children through need-based scholarships. This coming school year NOSF will be celebrating its 20th year of awarding scholarships. Over 14,700 students have received $12.6 million in scholarships. NOSF Alumni have a 100% high school graduation rate. The Northwest Ohio Scholarship Fund is part of the Children's Scholarship Fund (CSF) national network of scholarship granting organizations. CSF and its partner programs are committed to empowering families in need with the ability to choose the K-8 schools that best meet their children's needs, regardless of their ability to pay or where they live.