Toledo Library Hosts The Hip Hop Architecture Camp
In an effort to inspire underrepresented youth in Lucas County to explore careers in architecture and urban planning, the Toledo Lucas County Public Library is teaming with AIA Toledo, The Hip Hop Architect and Autodesk to host the Hip Hop Architecture Camp!

The Hip Hop Architecture Camp at TLCPL will take place July 9-13, 2018 for middle school aged youth. The camp is a one-week, intensive experience designed to introduce underrepresented youth to architecture, urban planning, creative place-making and economic development through the lens of hip hop culture. During the camp, students will be paired with architects, urban planners, designers, community activists and hip hop artists to create unique visions for their communities, including designing 3D models in Autodesk Tinkercad. The camp closes with the creation of a Hip Hop Architecture track and music video summarizing the group's designs, similar to a recent video created by participants in Detroit.
The Hip Hop Architecture Camp is the creation of designer Michael Ford, also known as The Hip Hop Architect. Ford is co-founder of The Urban Arts Collective, and a nationally renowned educator and speaker. He has delivered keynotes at a The 2016 American Institute of Architects National Conference on Hip Hop Architecture, SXSW, and Toronto Interior Design Show, as well as a TEDx Talk on Hip Hop Architecture. His mission to diversify the design field through the Architecture Camps have receive national press, including a feature on NBC's TODAY Show.

Michael Ford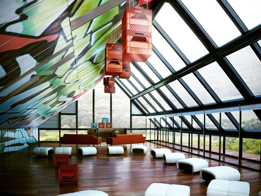 Jason Kucsma, Deputy Director for Toledo Lucas County Public Library said, "We're excited to bring this camp to Toledo to help our customers and community see how subjects ranging from urban planning and design to poetry, music and activism intersect - and further, shouldn't be seen as mutually exclusive. To be sure, music and poetry exist in design and architecture, just as technology and activism can inspire and push artistic expression to new heights. When these lenses and perspectives converge and harmonize, they can achieve so much more than the sum of their parts."

Speaking on behalf of AIA Toledo, Development Chair, Erin Curley, AIA, remarked "AIA Toledo is excited to co-sponsor Hip Hop Architecture! We have supported youth management in architectural design for the last 68 YEARS through our annual high school design competition. Hip Hop Architecture aligns with our goal to expose children to design. Creating awareness of design is the first step toward fostering interest in architecture."
Toledo Lucas County Public Library is currently seeking middle school participants for the camp. Interested youth can apply here to attend The Hip Hop Architecture Camp which will take place in the Creativity Lab at Main Library.

About The Hip Hop Architecture Camp:
The Hip Hop Architecture Camp is a national initiative with the mission to increase the number of minorities in S.T.E.A.M. related careers through culturally relevant programming. Visit www.hiphoparchitecture.com for more information.

For additional information please contact:
Joyce Fong, Teen Services Librarian
Email: Joyce.Fong@toledolibrary.org
Phone: 419.259.5319