Courtney Draper Crowned Miss Debutante 2018
Sojourner's Truth Staff
Twenty-seven young women and their supportive escorts were presented to the City of Toledo during the annual Debutante Cotillion. This rite of passage is sponsored annually by the National Association of Negro Business & Professional Women's Club, Inc; (NANBPWC) Toledo Club, and was held on Saturday, May 26 at the Stranahan Great Hall with over 350 guests in attendance.
Dressed in various white ball gowns, each debutante received a string of pearls, and completed the escort waltz and parent waltz.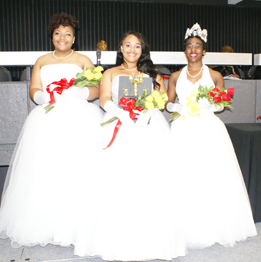 Nakiya White, first runner up; Christa Parker, second runner up; Miss Debutante Courtney Draper
Debutante 2018 is Courtney Draper. She currently attends Toledo School for the Arts and earned first place in the talent competition. Debutante Nakiya White currently attends Central Catholic High School and earned first place runner up. Debutante Christa Parker currently attends Springfield High School earned second place runner up.
NANBPWC Toledo Club officers are: Frances Collins, PhD, president; Denise Black Poon, first vice president; Alexii Collins, 2nd vice president; Marquita Scott Chong, director of membership; LyCynthia Jones, recording secretary; Tommie Lee McGhee, chaplain; Mironda Harris, corresponding secretary; Barbara Tucker, financial secretary and parliamentarian; Wilma Brown, treasurer, and cotillion general chairman.
The cotillion's purpose is to present outstanding young ladies to society clothed with the finer thoughts of living and endowing with a complete sense of responsibility, and accomplish culture, charm, talent, and congeniality. This year's mistress of ceremonies was Denise Cardwell, the club's Debs-In-Waiting and Etiquette chairman.