Historic Church Provides Full Week of Vacation Bible School
By Tricia Hall
Sojourner's Truth Reporter
St. Paul Missionary Baptist Church held their annual Vacation Bible School for all ages, from June 4 until June 8 at the historic building located on North Detroit Avenue in Toledo. The classes were led by volunteer church members and the classes were open to church members and community residents.
At least 55 students were divided into six classes: pre-school, primary one, primary two, juniors, high schoolers, and adults. Students received prepared lesson plans based off the theme, "Glow for Jesus," and nightly fellowship meals at no cost. The week-long school concluded with a recital on Friday in the church's sanctuary.
"Vacation Bible school is still a way for people to learn about the Bible, Biblical characters and morals, and even caught up on lessons that are missed throughout the year," explained Sharon Hubbard, assistant Sunday school superintendent.
Among the 55 students was first-time attendee and grandson of Pastor and First Lady Willis, Shelby Willis. He played the role of Paul from the Old Testament during the Friday program. "I'm excited about the play, and it's going to be fun. I get to play Paul, who used to be Saul. More friends should come next year because we get healthy meals, learn about the Bible and can be better people," said the future church leader.
The Friday program started with a lively procession of all the students by their class, each class was accompanied by their volunteer instructors. Immediately following the procession was a prayer delivered by St. Paul's deacon board chairman, Deacon Gayle.
The preschool class opened the recital portion of the program by singing about lesson #6 based off the vacation Bible school theme. The primary one class prepared a call and response presentation that focused on lesson #7, the story of Solomon and Shelba. The primary two class presented a play about lesson #8, the story of Priscilla and Aquilias. The junior class shared information from lesson #9 and important moments in black history. The high school class delivered mini-speeches about lesson #10 and the kingdom of light; while the adult class presented an overview of the entire week.
"I thank God for the instructors and the vacation Bible school leaders who were here all week. I believe the lessons taught to our children will stay with them for a lifetime. We need vacation Bible school all the time, because there is no better way to engage our children and provide them with Christian direction, than vacation Bible school," explained Rev. Willis.
The recital concluded with special presentations and acknowledgements including personalized care packages for the junior class, gratitude for all the students who donated non-perishable food items that were delivered to Caldwell food bank in North Toledo, and an announcement that each student under the age of 18 received an age-appropriate reading book donated by Books 4 Buddies.


St Paul VBS Students and Instructors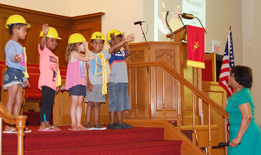 Preschool class with instructor Yvonne Gayle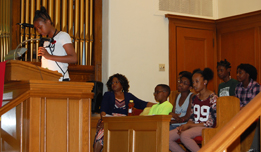 Juniors Class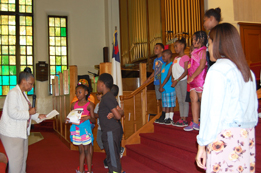 Primary School Students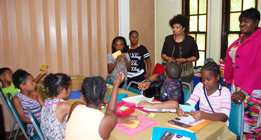 Primary Students

Adult class with instructor First Lady Willis (Far left)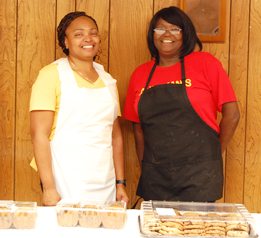 Sharon Hubbard, Assistant Sunday School Superintendent and Vernice Foreman, Kitchen Supervisor VBS
"As I stand here and see the results from this week of work and study, this is proof of what happens when you allow God to lead. When God leads, everything is possible," said Rev. Willis.
The theme was taken from Bible scriptures from the book of Matthew 5:16, "Let your light go shine before men that they may see your good works, and glorify your father which is in heaven." St. Paul Missionary Baptist Church is located at 1502 North Detroit Ave in Toledo.